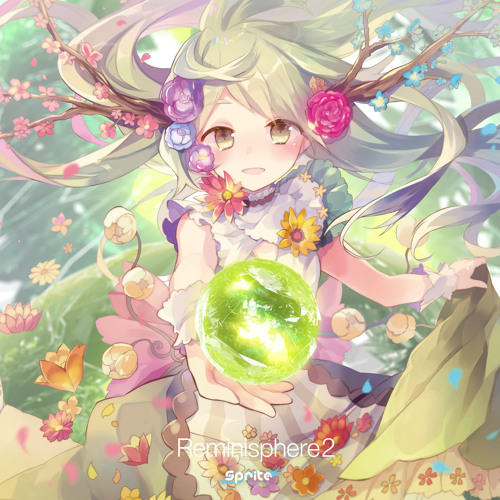 The event, which focuses on original releases, finally ends the long break after C87 soon, and I'm slowly getting to know more circles! This time's soundcloud-playlist is even bigger than my C87 playlist, surprisingly. But soundcloud was my first music source for M3-35 after all. (Prepare for a long list!)
Let's get started with vocal albums, which aren't a lot.
Sprite Recordings will release a sequel to their 1st vocal album with the title Reminisphere 2 (actually there were a few albums in between), a rock album with known vocalists, such as Merami(pop), Rekka Katakiri or Ahiru (aka Kanae Asaba). The 5th song sounds a bit like "Now is the Time", except with a different vocalist, though. My favorite song would be the last one, since I prefer electronic over rock.
Next album similar to Sprite Recordings would be MORNINGWELCOME's album by Takahiro Eguchi, one of signum/ii's member. There are a few electronic songs, but most of them are pop & rock or instrumental. At least you can find some known vocalists again, such as U-chan, lily-an, Ahiru or Aki Misawa.
LC:AZE will release another album (after 6 months). J-Pop as always, but I have to admit, I liked void's song much.
And now to yukacco, who's pretty famous in the J-core scene, or at least I have this feeling. She'll release her album under the label ALKANET with diverse genres. DJ Noriken's track is flawless as always.
Then there's Hotaru Murasaki's first (?) CD and an EastNewSound Best of Murasaki album. Even though the composer of the original CD is Kirin, it disappoints me. Maybe the other song sounds more…like normally electro? Nah, I doubt it.
Another album with half vocal, half instrumental tracks I'm looking forward to is POLYPHONIX's B [Blossom]. Kirin+nana+Ahiru were involved here, even with their other aliases and even with a style, rather unusual from what we know.  First song sounds Kirin-progressive house-like, so I approve. Even though, song number 4 with Iceon (Starving Trancer) is my favorite! Also, Kanae Asaba's uploaded a preview to a possible single. I don't know if it's a M3-release, though, but it sounds awesome.
A small album with vocals worth mentioning would be Yonder Voice's preview album. It consists of a short version of a song in their Reitaisai 12 release (10th May) and two former releases. The more I listen to it, the more I want this album…also, I can look at the album cover for hours (first wondering if it's really Touhou)!
There're a few more instrumental/vocal hybrids, like ALVINE's RUINS OF AVEDIR. Again with irony and KEiNA, but they're a bit too pop-ish for me. I'll mention some other albums with a few vocal tracks below.
edit: TAMUSIC will release a vocal+violin album with Aruna Ryuki as the second main arranger besides TAM. No tracks left a huge impression on me, but I'm still looking forward to this album.
And now to the main part of M3: Original instrumental albums.
Now playing HARDCORE TANO*C's new EDM album. Yes, there might be many fans which are pretty disappointed of this one, and their name HARDCORE don't fit here anymore. But as a fan of both, Hardcore/J-core and EDM, I don't think it's that bad. In fact, I rather like their attempt to try out something new, a change of pace. First song sounds good; second one, by King Nhato: awesome+my favorite tracks on this album; Minamotoya's song as good as always; next one by t+pazolite is pretty good too; DJ Genki's and Camellia's track have a bit of an oriental feeling; DJ Noriken a bit weak, but I like it anyway; P*Light probably my second favorite song here (because of Hi-Tech Psytrance!); and last track by REDALiCE feat. a☆ru, I like it too!
J-NERATION with their 2nd album J-NERATION 2 (obviously). And as I'm listening to the preview while writing this, I'm noticing nayuta at the first song…what the! Almost every song sounds great, but my absolute favorite is by Sanaas! Not only is he a very young artist (17!), I've been in love with his style since I heard him for the first time.
So, Lilium's going to release two albums this time. One of them is Lilium Liberation -Tribute-, a little best-of/reworks/remastered songs of the Lilium Liberation series and several remixes. I'm glad to see Konohana Sakuya again plus a remix by Freezer, Luna Lace (2015 Rework), Kiwoterae (Sanaas remix) and SH0KS 100KV on this album!
Second album is Lilium World Tour, and as the title already says, it's like a world tour :D The first song already sounds African, and great; second song is not bad either; but I like Nikizawa's song even more! And Sanaas is back with Trance, so love!
Next in my list is Amazing Record's DAYBREAK HORIZON, a fairly hardcore album with many DJs this time.
Speaking of hardcore, I randomly found HolTunes' album, which surprised me pretty much (in a good way). I like track 3 (KaSa), 4 (HORUTUNA), 6 (源屋) and 8 (DJ Noriken) the best! Especially Noriken's song, which I must have already listened to over 100 times…
Madstiff Tracks focuses on EDM this time (not the usual TechDance). I still can't decide about a favorite track though, they all sound average.
Digital Logics comes with two albums this time, Somewhere in the distant time and The Walker LP. Usual progressive stuff, Trance and House, but I'm a bit disappointed that NAGO didn't have many tracks on these albums.
Minamotoya's only going to release TERRA EP with 3 tracks this time. But these Trance songs sound great as always!
I'm sad that lapix decided to leave out Luschel this time and make a collaboration with a male vocalist (a DJ?). They'll release their album under MEGAREX. Even though I'm not fond of male vocal in electro songs, I'll listen to it anyway because of lapix' High-Tech Psytrance tracks.
A more happy news was definitely θcomplex with a full Psytrance album! Surprisingly, Yoohimemiya from Yonder Voice also took part in it (second track=love); Clean Tears track is great too, as well as lapix' track. Irus disappoints me a bit, but I'm happy about the fact to see Irus+lapix on a same album again (I loved their collaboration in ILL/LiLA'c Records pretty much).
Rest worth mentioning albums are also DJ Shimamura's FENIX, GAT's 4th album, Diverse System's AD:Nearly 120 seconds (there are a few good songs), DJ490's archive, BlackY's album with a weird album cover, RTTF Records, Massive CircleZ' usual hardcore/hardstyle album and Sketch Up! Recordings.
Edit: One album I'm really looking forward to is Spring has come by Login Records! Speaking of deadlines…